Clipped from: https://prime.economictimes.indiatimes.comBCCLFor long, India Cements did not see much interest, neither from momentum traders nor long-term investors, due to negligible returns. However, the stock saw a spike amid the Covid-19 crisis.
In the past three months, shares of India Cements have outperformed the market by surging 58% against a 23% decline in the S&P BSE Sensex. It is currently trading at INR126, up 30% in the last one month.
Turns out that Radhakishan Damani, the famed founder of Avenue Supermarts (DMart) who always wears white, and his associates have increased their stake in the company from 4% to 20% between December 2019 and March 2020. Retail investors are raving mad as the company also has a cricket connection.
India Cements managing director N Srinivasan was a former chairman of the International Cricket Council and has been president of the Board of Control for Cricket in India. The company is also the sponsor of Chennai Super Kings (CSK), the team that has won the Indian Premier League thrice. There have been reports indicating that Srinivasan wants to list CSK on the Indian bourses. Investors speculate that Damani possibly has interest in the cricket team, whose valuation has doubled over the last one year before the pandemic hit the world. But the fact is CSK demerged from India Cement in 2015. Shares of CSK have been moved to the shareholders trust of India Cement.
Meanwhile, foreign portfolio investors' holding in India Cements has reduced to 12.85% from 14.57% in the last quarter. Mutual funds' stake in the company declined to 2.7% from 11.1% in the previous quarter.
When institutional investors move out and retail investors get into a stock, it is generally considered that the stock will have a downslide, as smart money has moved out.
But when Damani moves into a stock it is a different deal.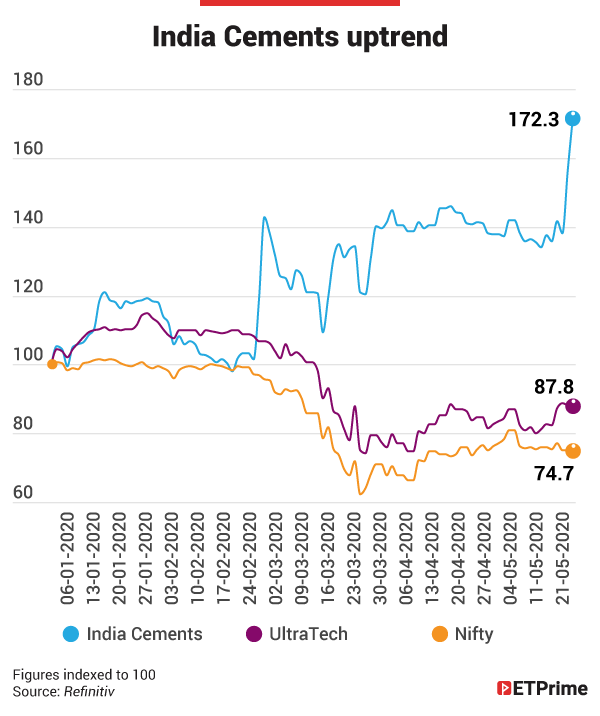 Cementing positions
Most retail investors had a whiff of Damani buying into the stock and they have coat-tailed him.
As such, there are no moats to the business apart from the areas of operation and plant locations. The cement sector has been popular among top investors during the late 1990s and even early 2000, when GDP growth rates were in the range of 6%-8%. It was also a popular industry with fundamental long-term value investors. Companies have always been valued on capacity utilisations and unit realisations.
India Cements is a south India-based company with a total capacity of 16 million tonnes per annum (mtpa). Besides cement, it has two shipping vessels and a wind farm in Coimbatore. The company is expected to ride on the housing demand from Telangana and Andhra Pradesh in future.
Cement is a commodity business and moves more on the GDP growth rates and demand from the housing sector. It is a leading indicator for economies. After Covid-19, as GDP growth rate goes flat or negative, cement will see lower demand.
According to a report by ratings firm Crisil, demand for cement is expected to fall by 15% per annum and capacity utilisation will be down to 60% in FY21 from 70% in the previous year. This adds to the already-weak demand the sector experienced in FY20. The only saving grace is the muted crude prices that will keep costs under control. Margins are expected to be high for FY20, but after Covid-19 the scenario will change drastically.
So, why did Damani invest in India Cements?
Everyone has been trying to decipher this. It is a question on the minds of fund managers, analysts, and retail investors alike.
This is not the first time Damani has taken interest in cement. In 2018, he along with Rakesh Jhunjhunwala teamed up to bid for Binani Cement, which was facing bankruptcy. There were some 15 other bidders for the same company. The JSW group emerged the highest bidder at INR5,900 crore. While the duo did back out that time, the cement sector stayed on its radar.
"First, he takes a very calculated risk, and that discipline has been there from day one. Second, I have realised that more than intelligence, he has wisdom. Third, he doesn't teach anyone. And finally, he has got extreme patience and humility," says Jhunjhunwala in an interview . He considers Damani as a big influence and a mentor to his investment philosophy.
Value investing
Damani, in turn, has been influenced by Chandrakant Sampat, a very long-term investor who bought MNC FMCG companies in the late 1960s and held them forever. Damani is also an investor who looks for long-term bargains and can hold on to a stock for long.
His portfolio as of March 2020 can be broadly classified as consumer-centric and construction-specific. Of the total nine companies in his portfolio, five were purchased in the last one year alone. Their total value works out to be INR75,000 crore.
Cement also has the flavour of old-school value investing, wherein one gets to touch and feel the product. The demand-supply is linear to the GDP growth rate. Value investors also like to buy companies where they feel the fortunes of a company or an industry are at a tipping point or are just about to change. India Cements checks all the boxes in the value-investing playbook.
The overall shareholding of Damani and his associates in India Cements has gone up to 20% as of March 2020, compared to 4.73% in December 2019. Institutional investors are wondering if Damani will go in for an open offer. "This looks more like a friendly transaction. Most probably, he will not go for an open offer, but I will keep my fingers crossed," says an analyst.
Damani is buying a stock which is deeply undervalued compared to its peers. Its price/book value (P/BV) has always been lower than its competitors for the past 10 years. Currently, the company trades at a P/BV of 0.74 times, compared with 5x for Shree Cement and 2.6x for UltraTech cement.
The stock has underperformed the index for the last five years, barring a brief period in 2017, when it outperformed it. Even now, after the stock has gone up, the returns are below the Nifty 50. Over the last five years, the Nifty 50 is up by 8% while India Cements by 6%.
This underperformance is the opportunity or "deep value".
Damani also scores big on the enterprise value (EV)/tonne metrics, where India Cements is available at a low price. "The enterprise value of the company works to be INR6,000 crore for a 16 million tonne capacity per annum. Per tonne, the price works out to INR4,000 or USD57. Most companies are in the range of USD100-USD120 per tonne. Thus, this becomes a very good deal for Damani," says an analyst.
Crisil data shows that 23 listed firms account for 372 million tonne capacity, accounting for 70% of the total installed capacity, with a total debt of INR53,400 crore. India Cements accounts for 6% of capacity and 4% of debt. The interest cover is 1.2x for FY19 and is estimated at 1.4x for FY20. The company is focusing on paying off its debt. The demand for cement in Andhra Pradesh and Telangana is likely to improve in the long run, which happens to be the main market for India Cements.
According to broking firm Emkay, the cement demand is down 15%-30% in different states. The demand is primarily driven by higher rural consumption (unfinished housing work getting completed) though construction of roads/highways also contribute to demand improvement in a few places. However, migration of workers could prove to be a roadblock in normal construction works in these states for a few months even after the lockdown. But for a long-term value investor, these are temporary glitches.
In November 2018, unlisted shares of CSK were traded at a valuation of INR450 crore when India Cements was valued at INR2,500 crore. The 10 paisa value shares were traded at INR15 in the unlisted market.
The unlisted shares of CSK have doubled to INR30 in January 2020, compared to the previous year. The stock of India Cement may not give returns, while the value of CSK will keep going up. But in a post-coronavirus world, the CSK shares have declined, as the fate of IPL is unknown.
Damani has played a value card on India Cements. Value investing is risky. But not when the investor is seasoned and investing in an area that he understands best – companies that are undervalued when the prospects are on a tipping point. The whole idea is to buy something cheap, sit, and wait. Even guide the management when required. And for someone like Damani, it is something he has done in the past. That is, wait on an investment for a long time.
(With inputs from Priyanka Salve)