To buy or not to buy: Covid may change Indians' equation with real estate
​​​ Real estate is occupying a disproportionate mindshare now because for nearly anyone engaged in economic activity, it constitutes a big chunk of costs, earnings, assets, or investments.
When the lockdown was announced, Arghyadip Datta was very close to becoming a homeowner.
A bachelor with roots in Kolkata, the 38-year-old Delhi-based business executive had never bought into the great Indian middle-class dream of home ownership. He didn't mind it as an asset class, but he wouldn't buy a home for sentimental reasons.
"I didn't want to get tied down," he says. But as every rent cheque started reminding him that it could well have been an EMI payment, his views evolved and sometime last year, he decided to take the plunge.
The pandemic arrived even as he was looking at houses and the lockdown fell into place before he could pick one.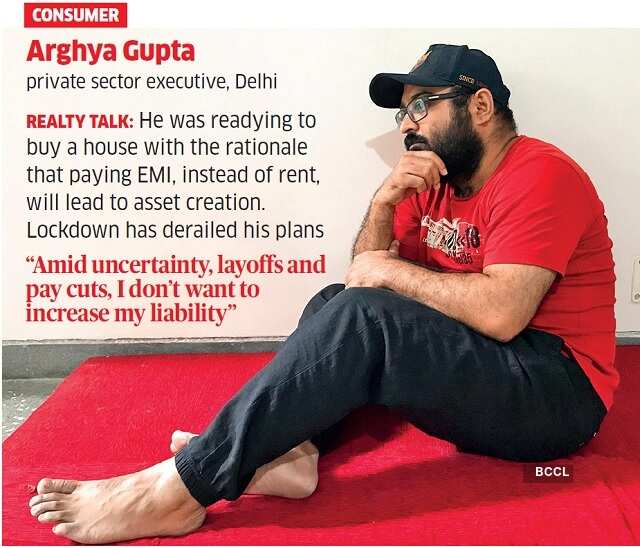 "I have never spent so much time with myself before. You get a better perspective on life," he says. As he juggled cooking, doing dishes and meeting work deadlines, he was also shuffling priorities in his head. "Amid so much news of layoffs and pay cuts, I don't want to increase my liability. I don't want to part with my savings to make the down payment," he says. He is not buying a house.
Dutta is among millions of Indians whose relationship with real estate has been reset by Covid-19 and the ensuing uncertainty. Companies, individual tenants, property owners, homeowners, builders and prospective buyers are all struggling to make sense of the disruption and trying to assess where on the financial matrix they will end up when the pall of this pandemic lifts.
Real estate is occupying a disproportionate mindshare now because for nearly anyone engaged in economic activity, it constitutes a big chunk of costs, earnings, assets, or investments. For companies, rents tend to be a big overhead. For tenants, rent is usually the single biggest cost. In asset portfolios of most people, a house is the most valuable thing they own. Therefore the direction and magnitude of the reset are of great interest.
Some, like South Delhi-based publicist Malvika Singh, already know what shape the reset will take. When she told her landlord of five years she might have to move out due to a steep pay cut, he offered a 25% lower rent.

The Chawlas, based in East Delhi, who painstakingly put together Rs 1.5 crore to buy their dream home, are now walking away from it. "There is too much uncertainty. Also, I am thinking maybe we would rather have a baby via surrogacy, which we both want badly," says Surbhi Chawla (name changed), a 34-year-old business executive.
Life on the other side of the ownership divide isn't always rosy.
Senior business executive LV Sastry, who lives in a rented flat, feels saddled with two lacklustre properties — a villa on Dwarka Expressway and a flat in Gurgaon, whose builder has gone bankrupt. "This is the best time to buy. Buyers with ready cash will get fantastic deals and low interest rates. But I am stuck with my illiquid investments," he says.
For CEOs faced with an unprecedented situation, pruning real estate costs has become something of a first order of business.
With work from home (WFH) going largely smoothly, vacating offices, renegotiating existing leases and deferring new ones are being considered. Rohtash Mal, chairman of startup EM3 Agri Services, says, "In two months of lockdown, we learnt that with WFH there is no productivity dip amid dramatic cost cuts. We now want to build on it."
Of 11 offices spread over 12,000 sq ft, he is shutting down five offices and surrendering about 7,000 sq ft of space even as he figures out a strategy to steady the business.
Ditto for Feedback Infra's chairman Vinayak Chatterjee, who will scale down his corporate office at Cyber Hub in Gurgaon while closing down offices in cities like Ahmedabad and Hyderabad amid a big push for WFH. In Bengaluru, Bruce Lee Mani of the band Thermal And A Quarter (Taaq), who is also cofounder of Taaq Academy, used to offer music classes with 70 teachers and four studios in the city. It has pivoted to offering virtual lessons.

"I have to quickly take a decision — do we really need to incur so much rental cost? If so, for how long?" he says.
Waves of Distress
For India's $180 billion real estate industry, Covid-19 is just the latest in a series of setbacks.
Indian realty employs an estimated 52 million people and contributed 6% to the GDP in 2017. An industry that traditionally relied on cash and dealt in opacity bore the brunt of the demonetisation in 2016. Then came the shift to goods and services tax and then the Real Estate Regulatory Authority Act, all of which pushed the sector towards much-needed modernisation and greater formalisation, but also caused disarray, slump in demand and a liquidity crisis.
This was followed by dampened sentiment and slowing economic growth. Again, the sector hurt badly.
"After years of challenges, by December (2019), things had started to look up. Finally, we were seeing some greenshoots. Covid-19 has left us in a quandary," says Niranjan Hiranandani, MD, Hiranandani Group.
For many brokers, months of hard work have gone to waste as deals that were nearly clinched have either disappeared or gone back to the negotiating table.
The industry-wide expectation is that demand will slide and prices will soften.
"Lockdown came as a jolt to us. Malls are shut. Sales are zero. This year looks like a washout," says Abhishek Bansal, executive director, Pacific India, which has four malls under operation and three under construction.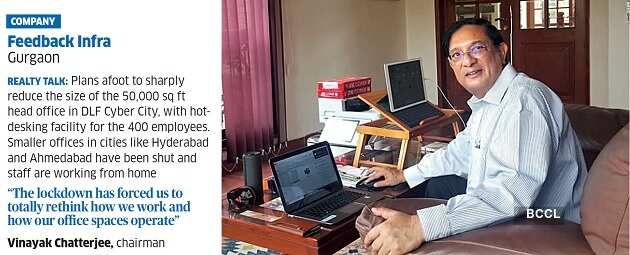 Co-working hubs, witnessing healthy growth till recently, are feeling the heat, too. Co-working firm 91springboard has 27 centres with 21,000 desks in all. About 60% of its customers renew contracts on a monthly basis.
"Some may downsize but we are hoping that at least 70% will come back," says Anand Vemuri, cofounder of 91springboard.
All-round uncertainty is roiling the real estate sector across all verticals — residential, commercial (corporate office spaces) and retail (malls et al). A recent report by property consultancy firm Anarock forecasts residential sales to dip by 35% and net office space leasing to slide by 30% to 28 million sq ft in 2020 as against 40 million sq ft in 2019.
The retail vertical will likely be the worst affected, with area absorption expected to drop by 64% from 8.5 million sq ft to 3.1 million sq ft.
"Many in retail will renegotiate rental terms. On the investment side, foreign direct investment could slow down. Cross-border capital could move to more known markets," says Ramesh Nair, CEO, JLL India.
Over the last seven years, India's commercial real estate had witnessed a bull run of sorts on the back of a demand surge, rising rentals and foreign investments from the likes of Blackstone, which is now India's largest office space owner, with assets worth more than $19 billion under its realty portfolio.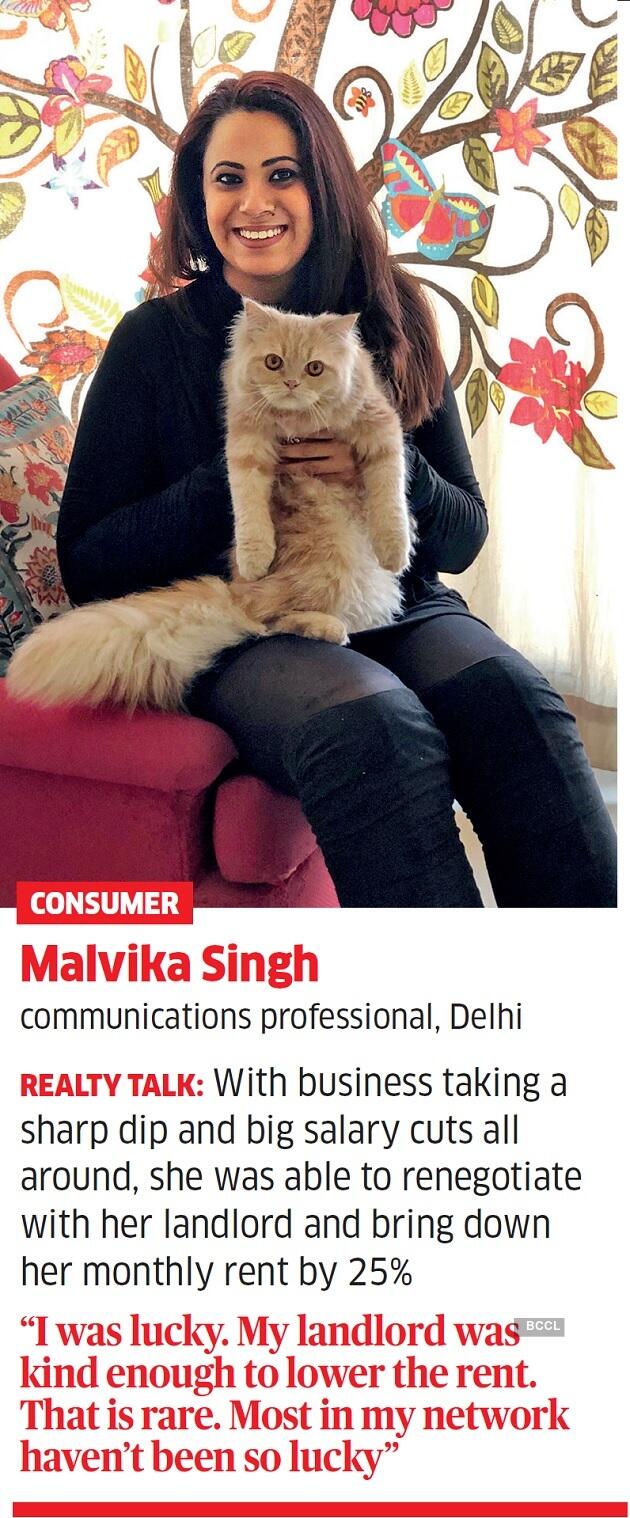 That boom might be nearing its end. Already, a JLL report shows that total institutional investments in Indian real estate in 2019-20 declined 13% year-on-year to $4.26 billion (58% dip in the quarter ended March), the lowest in four years.
A recent online survey, conducted by real estate portal MagicBricks (owned by Times Group, the publisher of ET Magazine), among 1,500 respondents lays bare the grim consumer mood on the ground. About 60% of the respondents who had plans to buy a house will hold their decisions for the next 3-12 months.
About 75% of them plan to cut their investment budget.
A CLSA report says prices of luxury residences in Central Mumbai have dipped 10-15% after lockdown.
Unsurprisingly, 50% of the survey respondents (many deal hunters) cite price discovery and job stability as their biggest challenge. And 75% are looking for discounts and relaxed financial terms.
"There will be consolidation in the developerand broker world," says Sudhir Pai, CEO, MagicBricks.
Hope in Niches Even as key verticals in the realty sector hurt, three niches hold out hope for future growth.
Residential sector has been reeling from oversupply for some time now. Anarock research reveals that India's top seven cities have 6.44 lakh unsold units, of which 12% (worth Rs 65,950 crore) are ready-to move in.
On the back of a slew of government sops, builders have been shifting attention to affordable housing. Of the 1.6 million units under construction, almost 40% are under Rs 40 lakh. Pockets in this segment will see demand perk up.

Under the Pradhan Mantri Awas Yojana (PMAY), with the vision to provide housing for all by 2022, incentives like CLSS (credit-linked subsidy scheme) were rolled out for low-income customers in the affordable housing segment.
Earlier this week, the government announced extension of CLSS to March 2021 for those in the eligibility bracket (Rs 6-18 lakh annual income), entailing additional fund infusion of Rs 70,000 crore.
"Residential will be totally a buyer's market, driven by end user, especially in the affordable segment," says Rahul Prithiani, director, CRISIL Research. Anarock's vice-chairman, Santhosh Kumar, sees demand coming from NRIs who are relocating back to India.
"Many of them plan to buy a house here. The upside of rupee depreciation will help them," he says.
Logistics and warehousing — witnessing healthy supply and demand growth after GST rollout — will likely remain buoyant, with the government's latest thrust to build agri supply infrastructure in the country.
"Industrial warehousing is doing very well," says Hiranandani, who in December teamed up with Blackstone to forge an investment platform for building warehousing assets with a corpus of $350 million. It already has three centres operational in Pune, Chennai and Nashik.
"Logistics and warehousing has received one of the largest equity capital from overseas," says Anckur Srivasttava, chairman, GenReal Property Advisers.
This has come from Xander Group, Warburg Pincusbacked ESR logistics firm and Morgan Stanley's real estate arm, among others.
"There may be short- to medium-term challenges but I am not worried about its long-term story," says Rajesh Jaggi, vice-chairman (real estate), Everstone Group.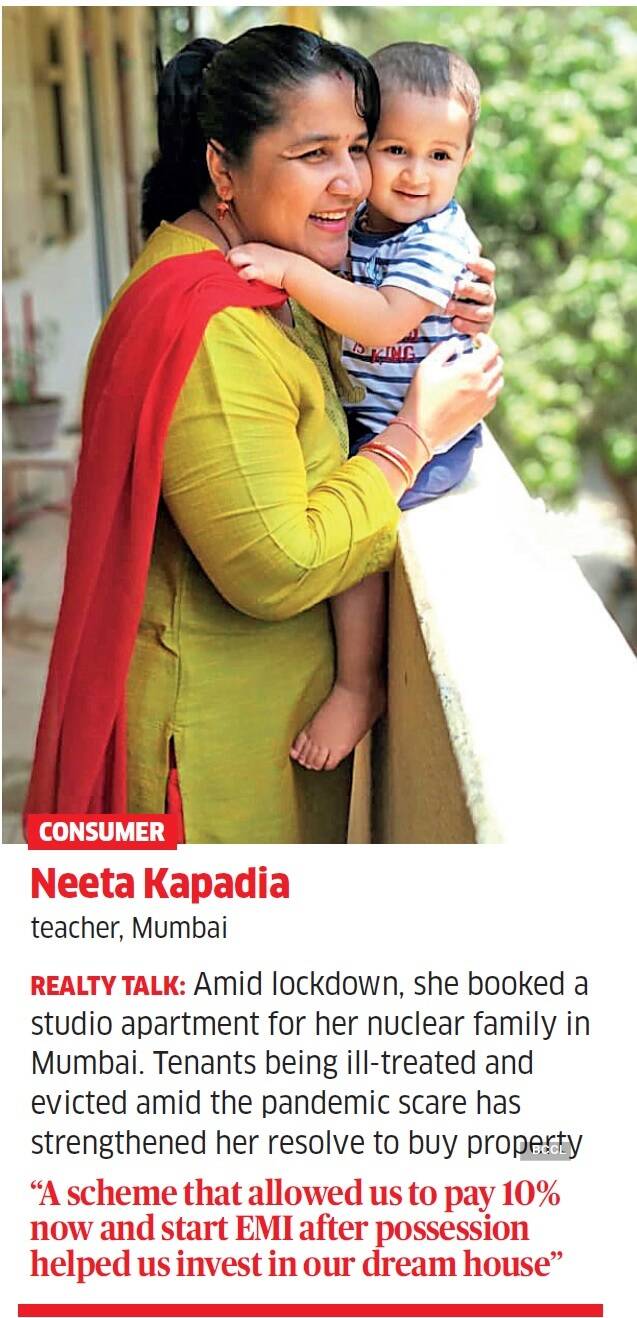 It has $3 billion of warehousing under its platform Indospace spread across 36 million sq ft. Rise of ecommerce after lockdown will give it momentum. Jaggi expects bounce-back to happen by Diwali.
Some key trends that will shape the growth are larger warehouses, more demand for A-grade facilities, higher automation and intra-city distribution centres that enable faster last-mile delivery for etailers.
"We are expecting to invest $2 billion of debt-and-equity money to develop an additional 25-50 million sq ft in the next five-seven years," he says.
Data centre parks or server farms hold out enormous potential amid growing digitisation wave and government's push for data localisation. Last year, RBI mandated that all financial transactions data should be stored on servers
located in India.
As a result, many players — both Indian and global — are entering the fray. Last year, Adani Group announced it would invest Rs 70,000 crore to set up solar powered data parks in Andhra Pradesh.
Real estate developer Hiranandani has set up Yotta Infrastructure and has ambitious Rs 14,000 crore investment plans. Reliance Jio is partnering with Microsoft to offer their cloud services to SMEs in India. As a result, the $2 billion data centre outsourcing market in India is expected to grow at a CAGR of 25% to touch $5 billion by 2023-24.
Structural Shifts
Beyond the current challenges of demand, supply and pricing, real estate veterans are now bracing for some deep structural shifts that are already underway.
Businesses are discovering multiple benefits of WFH, including cutting down fixed costs. Many wonder if offices will ever be the same. If weekend trips to malls, watching movies in theatres and eating out at restaurants will still be in vogue? "This is a reset forever. Many things will come back to normal.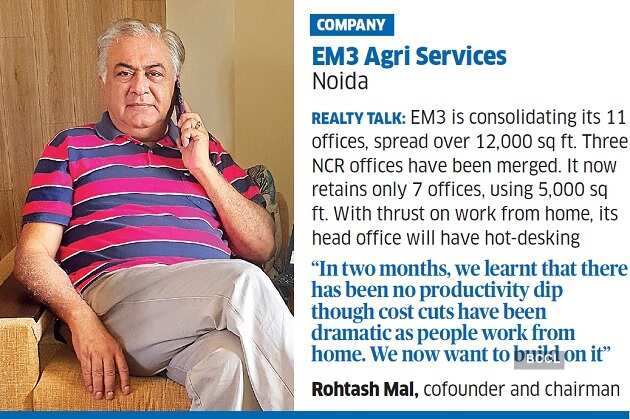 But some may not," says Anshuman Magazine, chairman, CBRE India, Southeast Asia, Middle East & Africa. For example, in commercial real estate, WFH is making people comfortable with video conferencing.
"Things we thought we couldn't do virtually we are able to. Almost every company seems to be rethinking and asking how much office space do they really need," Magazine adds.
Over the years, per person office space has been shrinking. From 350 sq ft per person in sectors like banking about three decades ago, it has come down to 60 sq ft per person in very competitive sectors like call centres. Even as work from home will mean lower office spaces, de-densification and social distancing will likely see an increase in per person area, says Nair of JLL, who expects 5-20% of workers to work from home in the medium term.
"You will see companies investing in necessary gear like furniture and uninterrupted bandwidth to boost WFH infrastructure," he adds.
Srivasttava of GenReal sees multiple subtrends that might shape commercial real estate. Companies such as Infosys, Wipro and TCS own large office spaces. "In times like these, we will see many monetise their real estate assets with sell-and-lease-back deals.
We are already working on a few mandates," he says. At a time when many developers will likely go belly up, he predicts the emergence of platforms and funds that will take over and turnaround distressed real estate projects.
Housing sector also will see some important shifts. Suresh Hari, chairman of real estate body CREDAI's Bengaluru chapter, says developers will make some changes to realign their product to suit the needs of Covid-19 world.
For example, houses will evolve to factor in WFH and lockdown concerns, with open spaces (like balconies), home offices, uninterrupted power supply, ecommerce delivery zone and contactless access emerging as important features.

Millennials — whose preference for rent not-buy gave a boost to offerings like co-living — emerge as an important buyer segment. The MagicBricks survey confirms this. Over 60% of respondents in the 25-45 years bracket, who planned to buy a house before lockdown, are still inclined to buy property, albeit with a slightly lower budget.
"Gen Y, who fuelled the sharing economy, now sees the advantages of ownership," says E Jayashree Kurup, editorial head, MagicBricks Realty.
Agrees Nayan Shah, CMD, Mayfair Housing: "Millennials are emerging as an important
customer segment for us. They are realising that in tough times, living in owned house brings security."
A combination of factors like great deals, low interest rates, thrust on WFH and the need for their own private space will likely fuel the demand. Builders like Mayfair are offering generous subvention schemes — pay 10% now and start EMI after possession, for example — which act as a catalyst.
Mumbai schoolteacher Neeta Kapadia, 34, recently booked a studio apartment in Powai extension, and agrees it's a good time to be a buyer. "The deal was good. Payment terms (pay 10% now, rest after possession) were attractive. Our long-cherished dream of buying a house in Mumbai has come true," she says.
via Property / C'struction – Services – Industry – The Economic Times