Clipped from: https://www.thehindubusinessline.com/economy/electronics-mobile-production-corner-over-50-share-of-pli-disbursals/article66781928.ece
Six sectors yet to receive incentives; DPIIT hopeful of situation getting 'back on track' soon
More than half the disbursals of ₹2,875 crore made so far under the government's ₹1.97-lakh crore Production Linked Incentive (PLI) scheme for 14 sectors have gone to large scale electronics manufacturing, including mobile phones, per government estimates. Pharmaceuticals and food products have cornered most of the remaining disbursed amount.
Disbursals are yet to begin for six sectors — textiles, white goods, automobiles, auto parts, solar PV modules and ACC battery — even as small amounts have been given to bulk drugs, medical devices, telecom and networking products, drones and technology products.
"In some sectors, investments and spending have not been as much as anticipated, as manufacturers may be finding it difficult to meet some of the PLI conditions that were finalised when the global situation was different and Europe was not in crisis. But no scheme has been derailed. Going by the way things are changing (globally) and the response we are getting, in 2023-24 we are hopeful that all sectors will be back on track," Rajeev Singh Thakur, Additional Secretary, DPIIT, said on Wednesday.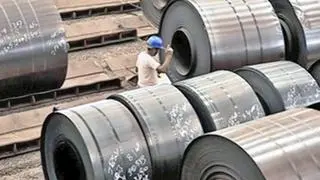 Time, a factor
The Centre announced the PLI scheme in 2020 to attract investments in 14 sunrise and strategic sectors that could boost manufacturing and exports. With a corpus of ₹1.97-lakh crore to be distributed over five years, the scheme offers incentives to beneficiaries based on incremental sales. The government expects the scheme to result in production worth $500 billion and create 60 lakh jobs.
Some sectors were performing better than others also because they may require less time to come into the production stage, said Singh. Also, brownfield projects needed less time than greenfield and there were various requirements around that, he added.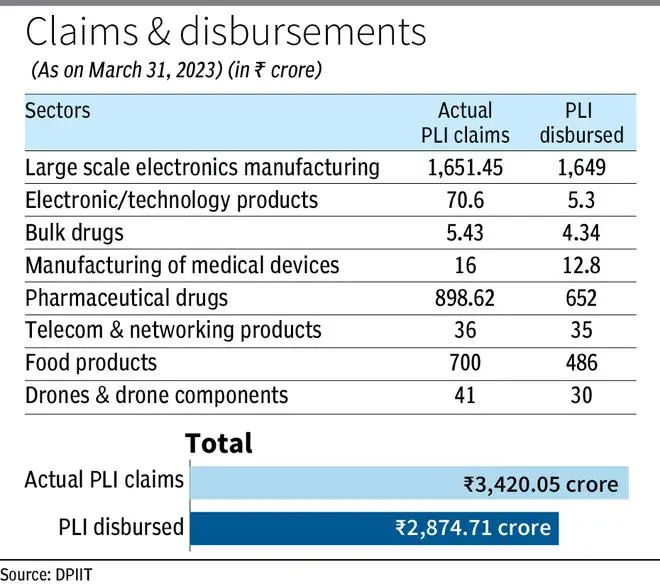 "Production has started in almost all sectors under the PLI scheme and we are hopeful that in the next five years, all will get executed," Singh said. Actual PLI claims worth ₹3,420 crore have come from eight sectors, of which ₹2,875 crore has already been disbursed. The remaining claims are likely to be disbursed within a month or so.
Update so far
Till December 2022, a total of 717 applications had been approved across the sectors with expected investments of ₹2.74-lakh crore. Actual investment of ₹53,500 crore has flown into the identified sectors leading to incremental production/sales of over ₹5-lakh crore and over 3 lakh job generation, per the DPIIT.
Large scale electronics manufacturing got the highest PLI disbursal so far of ₹1,649 crore. Major companies that have received approval for PLI incentives under the mobiles category include Foxconn and Padget electronics.
Pharmaceutical drugs and food products received disbursals of ₹652 crore and ₹486 crore, respectively, while the remaining five sectors received small amounts adding up to less than ₹90 crore.
Comments