Clipped from: https://www.thehindubusinessline.com/markets/it-stocks-hammered-over-concerns-of-weak-outlook/article66747786.ece
Poor quarterly performances for TCS and Infosys are a clarion call for macroeconomic headwinds in the sector
A poor outlook for the Indian Information Technology sector triggered a massive selloff in IT stocks on Monday as top companies Tata Consultancy Services and Infosys reported lacklustre results for the fourth quarter of FY23.
Infosys was the most affected, seeing a nearly 10 per cent decline in its stock price on Monday. TCS also saw a 1.56 per cent decline. Stock prices of all other major listed IT companies were in the red, with Tech Mahindra, LTI Mindtree, and Wipro seeing a dip of 5.18 per cent, 6.96 per cent, and 1.79 per cent, respectively.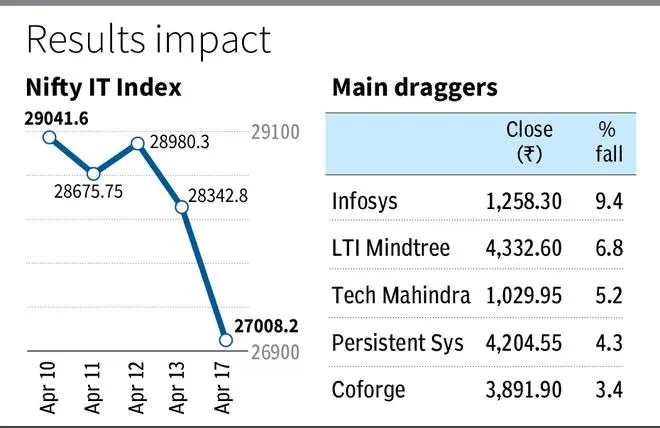 Prashanth Tapse, Senior VP (Research), Mehta Equities Ltd.: "Markets snapped the 9-day winning streak after IT major Infosys' results disappointed the street, which triggered a steep fall in the counter, while other IT stocks also received a drubbing due to the rub-off effect. Markets are likely to trade volatile and choppy, with the Nifty likely to see support at 17573, while the biggest hurdle is at the 17863 mark."
Double whammy
IT services companies are facing a double whammy of slowing business in key markets such as the US and a reduction in outsourcing basic coding jobs with many enterprises adopting artificial intelligence platforms that can automate software programming.
While most Indian players see the weakness in the global macro environment as transitory and expect the technology upcycle to come back, management commentary has begun to turn cautious given fears of a macro slowdown.
Many IT companies have already revised their guidance for the current financial year, blaming volatile macros and the impact of higher-than-expected furloughs in the BFSI, hi-tech, and telecom verticals.
Similarly, European clients are being substantially cautious and apprehensive, which is reflected in their slower pace of decision-making and elongated deal closure cycles. US and Europe together account for 80–90 per cent of revenues for all major IT companies. In terms of vertical segments, for most Indian IT services companies, BFSI is the largest vertical. With capital markets taking a hit in the Western world, discretionary IT spending is likely to get cut.
Swapnil Shah, Head of Research at Stoxbox, said, "Indian markets are trading in the red today amid weak fourth-quarter results and sub-par FY24 guidance from Infosys, which slumped more than 10 per cent. Markets believe that the global macroeconomic headwinds are likely to weigh on the growth of the IT sector, elongate the decision-making cycle of clients, and prioritize cost-optimization projects over large transformation projects, which have delayed project returns. The uncertainty over future IT spends dragged the Nifty IT Index 4.7 per cent"
Weak outlook
The weak outlook is ominous for a sector that has witnessed record hiring over the last two years. Already, both TCS and Infosys have drastically reduced their net hiring. Total hiring, which includes both freshers and already experienced software developers, had already declined from the net addition high of 3,80,000 seen in FY22 to an estimated 2,80,000 in FY23.
While IT companies such as Tech Mahindra and Wipro are yet to release their results, poor quarterly performances for TCS and Infosys are a clarion call for macroeconomic headwinds in the IT sector.
Kotak Securities noted that the US slowdown, which was further exacerbated by the banking crisis, is proving to be a common challenge.
"The slowdown was sharper than expected. Infosys and TCS reported QoQ revenue declines of 3.8 per cent and 0.8 per cent, respectively, in North America. The revenue decline in North America was across verticals on a sequential basis. The reasons for the decline were a pause in discretionary programs and even cancellations. After a slow start in January, projects were paused or cancelled in February, and they continued in March. The banking crisis in US regional banks and European banks in March 2023 has induced greater caution and could impact the June 2023 quarter. We would not be surprised by a weak US performance across companies that are likely to report in the coming days," the report said.
The hammering of IT stocks weighed heavily on the overall equity market as the BSE benchmark Sensex slumped 519.31 points, or 0.86 per cent, to 59,911.69 after a nine-day winning streak. NSE's Nifty was also down 125.65 points, or 0.70 per cent, at 17,702.35.
Comments