Clipped from: https://www.thehindubusinessline.com/money-and-banking/banks-q4-provisional-figures-reflect-sustained-credit-demand-in-q4-fy23/article66703498.ece
Deposit accretion also maintains momentum, with most major lenders reporting over 15% growth
Provisional figures for Q4 FY23 released by banks and non-banking finance companies (NBFCs) reflect that domestic demand for credit continues to sustain, despite the steady increase in interest rates and elevated inflationary pressures.
Of the numbers declared so far, most lenders posted growth in advances or assets under management of over 15 per cent, with HDFC Bank seeing a strong growth of 17 per cent year-on-year, and other major lenders such as Bajaj Finance, M&M Financial Services, IndusInd Bank and Federal Bank seeing a growth of 20-30 per cent.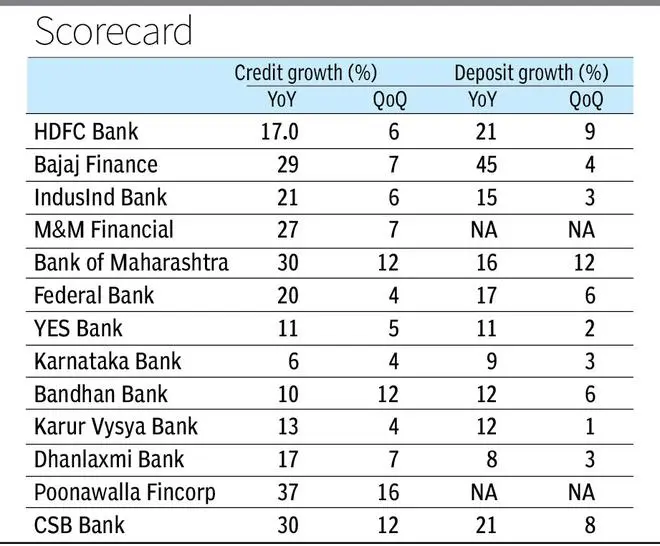 Such numbers, especially by retail-oriented lenders such as Bajaj Finance and Mahindra Finance, show that domestic consumption and need for credit remained strong during FY23. As such, Q4 tends to be a strong quarters for lenders, owing to year-end fund requirements, and as they look to shore up their balance sheets before the end of a financial year.
Some small- and mid-sized banks such YES Bank, Karnataka Bank, Bandhan Bank and Karur Vysya Bank were the outliers, posting credit growth of below 15 per cent, in the range of 6-13 per cent y-o-y. However, Bandhan Bank and Karnataka Bank have been consciously running down their microfinance and corporate exposures, respectively, as a business strategy leading to overall muted growth. Bandhan Bank saw a pick in Q4, with advances growing higher sequentially at 12 per cent.
Deposit accretion
On the other hand, deposit accretion, too, maintained its momentum and most major lenders reported deposit growth of over 15 per cent y-o-y, barring Karnataka Bank and Dhanlaxmi Bank. Sequential trends, too, showed steady deposit growth, albeit few banks such as YES Bank and Karur Vysya Bank that could have possibly slowed down deposit mobilisation due to muted loan growth.
Banks such as HDFC, Karnataka and Bandhan saw their deposits growing faster than advances in FY23. Bajaj Finance's fixed deposits also surged by 45 per cent, albeit on a much smaller base.
In a recent note, CRISIL Ratings had said that balance sheets of banks and NBFCs have been steadily improving due to better capitalisation, asset quality and profitability. It pegged bank credit growth at around 15 per cent in FY24, flat compared to FY23, whereas for NBFCs, it is projected to be around 13-14 per cent, slightly higher than 12-13 per cent in FY23, driven by the retail segment.
Comments