lipped from: https://timesofindia.indiatimes.com/city/pune/pune-rainwater-harvesting-falls-into-disuse-tankers-fill-in/articleshow/91584258.cms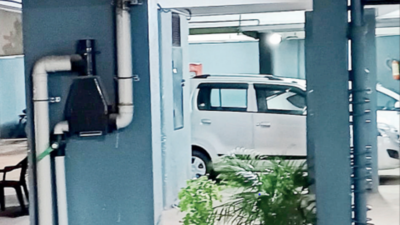 Rainwater harvesting system at Windsor Avenue building in Wanowrie. The system helped society become tanker-free
PUNE: After a flutter of enthusiasm among hundreds of societies across the city to save and reuse rainwater in the last two decades, the initiative has nosedived as members are unaware of how to use the installed systems.
The Pune Municipal Corporation made rainwater harvesting mandatory for new buildings for building permissions and developers have showcased these provisions in all their upcoming projects. There is also a 10% property tax rebate for a society which has a rainwater harvesting system. But, there has been no strict monitoring of the utilisation.
State town planning officials said such is the state that most societies are heavily dependent on tankers. Local authorities have failed to follow up with the developers on whether these systems are in a working condition, while some societies, in spite of having the facility, are unable to use it as the systems are defunct. A housing complex in Dhanori area was unable to use the system as it had fallen into disuse forcing the society to pool in finances to repair it.
Col Shashikant Dalvi (retired), national coordinator of water conservation, who implemented Pune first rooftop rainwater harvesting system in his society in Vimannagar in 2003, said local authorities must aggressively implement such systems in all buildings, including government and public places.
"All ward offices must have brochures in Marathi and English about rainwater harvesting systems. A list of vendors who are qualified to implement such systems must be put out and the ward office must distribute these brochures to all citizens in their jurisdiction to bring about awareness. There should be monitoring to make it effective," he added.
Since 2007, a rainwater harvesting system on all new buildings is mandatory. However, the lack of awareness and its implementation are poor.
"The city has more than lakhs of registered housing societies, but only 3,500 have implemented such systems and have become tanker water-free," Dalvi said.
Maithali Manakwad from Wanowrie Residents' Forum said the apathy and inertia in implementing rainwater harvesting by many housing societies is shocking. "Societies will spend lakhs per year buying tankers and approaching corporators for free tankers but won't spend a fraction of it for implementing rainwater harvesting or recharging dry borewells which are wasted. It is high time the PMC makes it mandatory for the societies to implement RWH and keeps a check. There has to be collective action," she said.
Ravindra Sinha activist and trustee of Bhujal Abhiyan Trust said that the responsibility of rainwater harvesting cannot be entirely entrusted to the general public as societies are made to maintain it.
"Rainwater harvesting does not immediately solve the rising water demand as groundwater levels depend on multiple factors, including land use at the recharge source area, recharge potential, influence zone, rainfall, surface run-off quotient and so on. Ironically, to meet their water demand, societies end up buying water through private tanker suppliers whose source is again groundwater. This vicious cycle continues to deplete the groundwater levels in Pune," he said.
Groundwater recharge areas and water bodies of Pune region, the hills, rivers, streams, lakes, springs, ponds, dug wells should all be protected under Essential Reservation criteria and notified by authorities with no obstructions allowed in their zone of influence, he added.
He said that they have been advocating authorities to conduct periodic hydrogeological surveys of the Pune region and publish groundwater quantity and quality data publicly.
"Local bodies should have a groundwater cell as mandated by Jal Shakti ministry guidelines. Groundwater extraction points must be surveyed, mapped and metered by the authorities," he added.
The PMC had planned to involve the Groundwater Survey and Development Agency for the inspection of the units in societies before approving tax concessions.
READ NEXT:
More on this topic
MOST READ
LATEST