Clipped from: https://www.thehindubusinessline.com/economy/economys-growth-momentum-intact-with-robust-gst-collections-auto-sales-manufacturing-consumption-worry/article66568600.ece
Concerns post Q3 GDP data release around economic revival turning shallower "totally misplaced", says CEA Anantha Nageswaran
Moody's Investors Service raised the GDP growth forecast for 2023 to 5.5 per cent | Photo Credit: bluebay2014
Indian economy showed resilience despite a lower-than-expected third quarter growth as GST collections and automobile sale numbers on Wednesday showed a robust picture and Moody's Investors Service raised the GDP growth forecast for 2023 to 5.5 per cent from 4.8 per cent projected in November 2022. Moody's has pegged the GDP growth for 2024 at 6.5 per cent.
Economic indicators
Even as downside risks of manufacturing and consumption slowdown remained, a slew of economic indicators made public in the last two days showed that Indian economy is now mean reverting to its pre-pandemic growth trends. The key indicators of Q3 GDP data (released on Tuesday), GST collections for February at robust ₹1.5-lakh crore; PMI manufacturing for February continuing to be in expansion zone for 12th straight month, robust automobile sales number for February all painted an optimistic picture of India growth juggernaut remaining intact.
The core industries growth for January 2023 at 4-month high of 7.8 per cent — data released on Tuesday — was also a positive indicator of the country's growth revival.
Also ,the sequential momentum in GDP growth held up in the third quarter, reflecting that economy was moving along the path seen in pre-Covid years.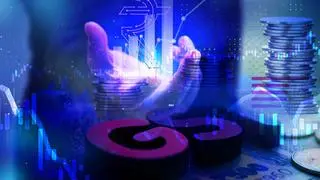 The latest third quarter GDP growth print of 4.4 per cent may have been lower than expected but, according to Chief Economic Advisor (CEA) V Anantha Nageswaran, the perception that latest GDP data was a pointer to economic revival turning "shallower" was totally misplaced. The CEA asserted that economic commentators are not making a fair comparison on a "like for like basis" after factoring in the data revisions to the GDP of the previous three years.
"The argument that the recovery has become shallower does not make sense since one is not making a fair comparison", Nageswaran.
GST COLLECTION
Nageswaran's argument was validated by the robust GST collections and automibile sales numbers. GST collection in February touched around ₹1.50 lakh crore. It was 12 per cent higher than the GST revenues of February 2022. For the 12th successive month, GST collections remained at ₹1.40 lakh crore plus.
Manufacturing sector maintained the momentum in February as Purchasing Managers' Index (PMI) dropped a tad to 55.3 from 55.4 of January.
AUTOMOBILE SALES
The automobile sales too showed growth in February, especially the passenger vehicles makers like Maruti Suzuki India and Mahindra & Mahindra (10 per cent YoY each), Hyundai Motor India and Tata Motors (7 per cent YoY), Kia India (35 per cent YoY) and Toyota Kirloskar Motor by 75 per cent YoY.
MANUFACTURING, JOB CREATION
Concerns continue to remain on manufacturing and job creation. Official data showed that manufacturing clocked de-growth in two successive quarters (Q2 and Q3) at 3.6 and 1.1 per cent, respectively.
(With inputs from Ronendra Singh)
SHARE
Published on March 1, 2023