lipped from: https://timesofindia.indiatimes.com/business/india-business/explained-why-did-india-ban-wheat-exports-despite-big-trade-plans/articleshow/91565703.cms
NEW DELHI: In a drastic move, India on Saturday announced a ban on wheat exports with immediate effect in an effort to control the rising domestic prices.
Interestingly, the move comes just days after India said it was targeting record shipments this year.
Here's what you need to know about India's wheat export ban …
The reason
The primary question is, why did India — the world's second largest wheat producer — decide to halt exports?
Blame it on the war and the scorching heatwave.
Global wheat prices have risen by more than 40% since the beginning of the year due to the Russian invasion of Ukraine.
Before the war, Ukraine and Russia accounted for a third of global wheat and barley exports. However, since Russia's February 24 invasion, Ukraine's ports have been blocked and civilian infrastructure and grain silos have been destroyed.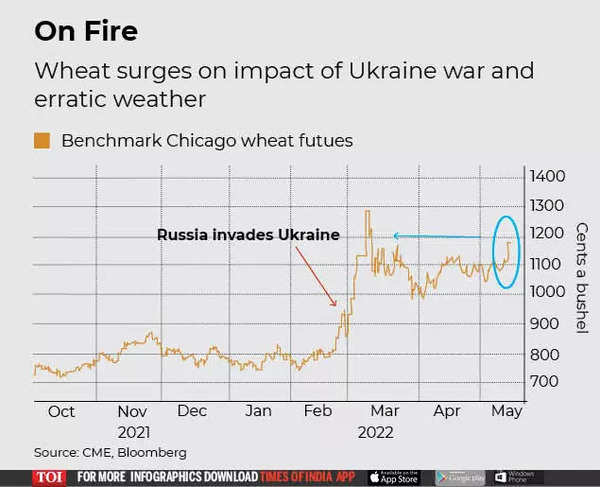 At the same time, India's own wheat harvest has suffered from a record-shattering heatwave that is stunting production.
Even though it produces copious amount of wheat, India consumes most of what it produces.
It had set a goal of exporting 10 million tons of the grain in 2022-23, looking to capitalize on the global disruptions to wheat supplies from the war and find new markets for its wheat in Europe, Africa and Asia.
The government itself was quite confident as it had estimated that production would hit an all-time high of 111.32 million tonnes.
However, a sharp and sudden rise in temperatures in mid-March meant the crop size previously anticipated by India would be smaller than expected.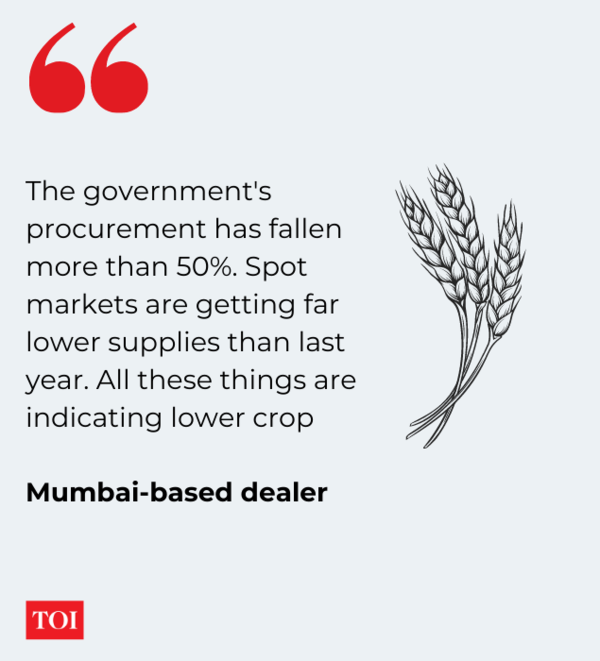 This threw spanner in the works, forcing India to prioritise its own needs first.
The riders
While India is no longer going to supply wheat to the world, the ban by government is not a blanket suspension of exports.
The government said that exports could still take place if New Delhi approved a request by other governments "to meet their food security needs." Egypt is already in talks with the Indian government regarding exemption on export ban.
Moreover, all export deals agreed before the directive issued on Friday could still be honoured.
The government has also said that the move to ban overseas shipments was not in perpetuity and could be revised in the future.
The criticism
India's decision to halt wheat exports, at a time when the prices are already skyrocketing, drew criticism from some countries.
Agriculture ministers from the Group of Seven industrialised nations condemned India's decision to ban unapproved wheat exports in a joint statement.
"If everyone starts to impose export restrictions or to close markets, that would worsen the crisis," German agriculture minister Cem Ozdemir said at a press conference in Stuttgart.
"We call on India to assume its responsibility as a G20 member," Ozdemir added.
The agriculture ministers would also "recommend" the topic be addressed at the G7 summit in Germany in June, which Prime Minister Narendra Modi has been invited to attend.
The official view
India's ban on wheat exports is not a crisis-driven reaction but a calculated measure to keep domestic prices in check.
Talking about the decision to ban exports, commerce secretary BVR Subrahmanyam asserted that there is no wheat supply crisis in the country.
The official added that the government's decision will help in controlling rising domestic prices and meeting the food requirement of India's neighbours and vulnerable countries.
Explaining the rationale behind the decision, the commerce secretary said the primary goal was to put a "check on inflation".
"So, what is the purpose of this order. What it is doing is in the name of prohibition – we are directing the wheat trade in a certain direction. We do not want the wheat to go in an irregulated manner to places where it might get just hoarded or where it may not be used to the purpose which we are hoping it would be used for," Subrahmanyam said.
The focus has also been given to ensuring adequate food stock availability within the country.
"At the end of the day, food is a very sensitive item for every country because it affects everybody – poor, the middle and the rich," he said, adding the wheat flour prices have gone up in some parts of the country by about 40 per cent.
Earlier, government sources had said that a ban on wheat exports will help in crushing "attempts by certain foreign players" to hoard Indian wheat for price manipulation in global markets.
(With inputs from agencies)