Clipped from: https://www.thehindubusinessline.com/money-and-banking/april-monetary-policy-meet-likely-to-maintain-status-quo-on-policy-repo-rate-sbi-report/article66667570.ece
According to the report, the repo rate is already 25 basis points higher than the optimal requirement of 6.2 to 6.32 per cent
The State Bank of India's Economic Research Department (ERD) expects status quo on the policy repo rate in the April monetary policy committee (MPC) meeting.
In the ERD's assessment, the repo rate is already around 25 basis points higher than the optimal requirement (basis CPI, core CPI, and Fed rate) of 6.2 per cent to 6.32 per cent.
The department arrived at its optimal repo rate by taking into account three factors: the RBI's inflation projection of 5.2  to 5.5 per cent in FY 24; sticky core inflation anticipated in the range of 5.4 to 5.6 per cent in FY 24; and the Fed's future implied terminal rate, which is expected to remain in the range of 4.85  to 4.95 per cent in CY 23.
"Even if we assume core inflation to be sticky at 5.6 per cent, the projected terminal repo rate comes at about 6.25 per cent…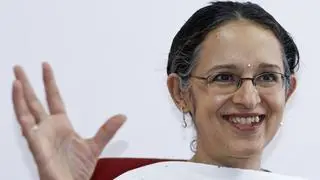 "Considering the repo rate is already around 25 basis points higher than the optimal requirement , a 6.5 per cent repo rate could be considered as the terminal rate," said Soumya Kanti Ghosh, Group Chief Economic Adviser, State Bank of India.
Also read: Panel divided over rate hike, monetary stance, show minutes
Since May 2022, the MPC has cumulatively upped the repo rate by 250 basis points, from 4 per cent to 6.50 per cent.
Ghosh observed that the RBI has enough reasons to pause in April. There are concerns about a material slowdown in the affordable housing loan market and financial stability concerns are taking centre stage, he added.
"While concerns about sticky core inflation are justified, the average core inflation has been at 5.8 per cent over the last decade, and it is unlikely to decline materially to 5.5 per cent and below as post-pandemic shifts in expenditure on health and education and the sticky component of transport inflation, with fuel prices staying at elevated levels, will act as a constraint. By this logic, the RBI may then have to go for more rounds of rate hikes." Ghosh said.
Smaller in magnitude
ERD noted that the March and April inflation data will only be known to the RBI before the June MPC meeting.
"Our expectation is that March inflation could be around 5.5  to 5.6 per cent, and April inflation at 4.7 to 4.8 per cent.
"Thus, the RBI will have a delicate balancing job to either look forward to the June meeting with clear signs of inflation trending downward, or look backwards at the January and February prints in the April policy. Thus, it will be a delicate choice," Ghosh said.
ERD expects Fed rate hikes to be smaller in magnitude, and one last hike of 25 basis points could be on the cards in the May policy.
"The challenge now is to decouple from Fed. But the good thing is that a dovish Fed means a soft dollar and, thus, lower depreciation risk for the Indian rupee in the short to medium term," Ghosh said.
According to the schedule, the three-day long bi-monthly monetary policy review meeting will conclude on April 06.
Comments