Clipped from: https://indianexpress.com/article/explained/explained-economics/experts-say-may-not-affect-market-but-deepens-anxiety-on-corporate-governance-8408635/
While many feel the situation will "stabilise" in the coming days, there is an apprehension that this may reinforce distrust around corporate governance practices in India Inc.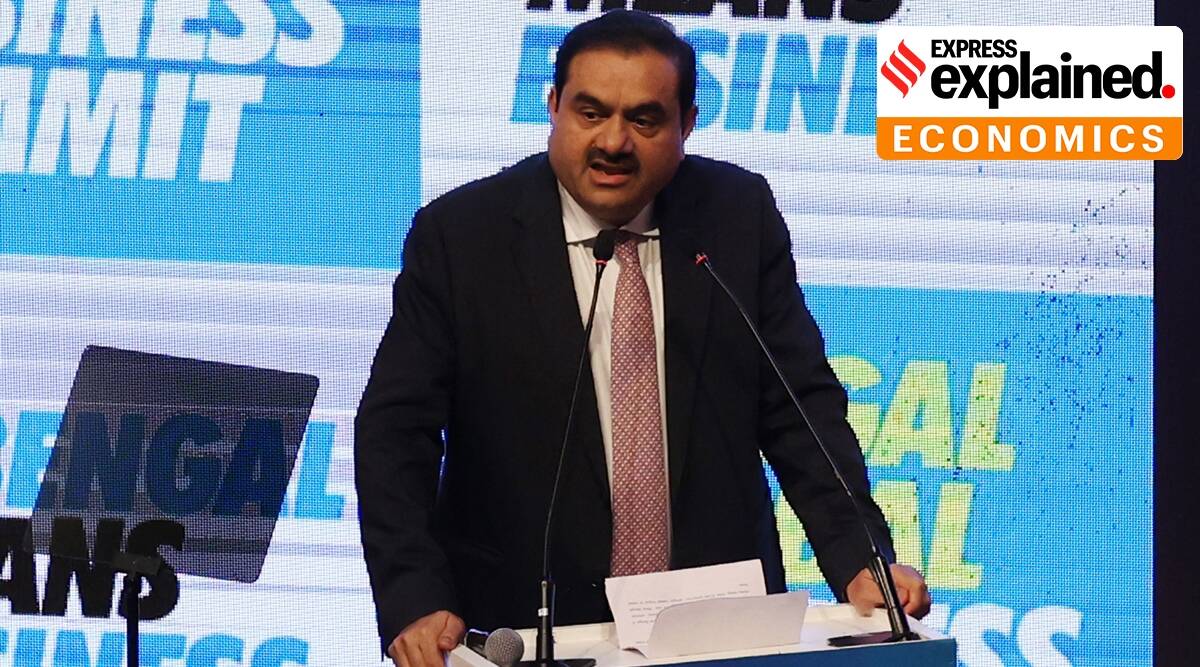 Gautam Adani, Chairperson of Adani Group.
The two-day sell-off in Adani Group stocks, following the Hindenburg report, was due to short-selling by traders and the absence of buyers as sentiment around the group's companies turned negative. The group's stocks, thinly held by retail investors and mutual funds — and with low free float — found little support and so went into a spiral deepening anxiety among even those holding them.
While many feel the situation will "stabilise" in the coming days, there is an apprehension that this may reinforce distrust around corporate governance practices in India Inc.
Read |The Collateral: Crash hits Govt-owned LIC hard, its Adani share value dips 22%
Said the CEO of a large mutual fund: "If one of your largest companies is facing this crisis of governance and its shares are getting hammered, people may raise questions. However, investors will be able to differentiate between companies."
After a four per cent fall in the group's market cap Wednesday and the 18.5 per cent decline in Adani Group's market capitalisation Friday, shares may continue to fall. Experts say the quantum of decline will depend on the level of pledging on the shares and the group's financial ability to fund margin calls.
Is Adani Group's value affected?
As of now, there isn't much concern around the fundamentals. "The group is into good businesses where they have monopolistic positioning and the pricing too is controlled. However, much depends on the level of anxiety among investors and how much the prices crash," said a veteran market participant.
However, he also said there won't be "much pain" overall as, in terms of value, the group's loss of market cap won't be more than 2 per cent of the market and this can be overcome.
Also Read |Adani FPO subscribed just 0.01% on day 1
Even as some PSU banks with exposure to the group have been hit hard, experts feel there is little need to worry about NPAs. "I don't think that is a concern anywhere with respect to Adani Group," said another leading fund manager.
Advertisement
Adani Group shares have a lower percentage of floating stocks and even within that, a large share is held by a clutch of FPIs. Since mutual funds do not have much exposure to the group companies, it is unlikely that the stocks will find support from them despite the 20-25 per cent fall in share prices. Floating stocks are the outstanding stocks of a company that are available for public investment, excluding the promoters' stake which is not available to the public.
What is the break-up of the groups's holdings?
While retail and HNI holding across the seven Adani companies (excluding Ambuja Cements and ACC) varies from 1 to 4 percent, the mutual fund holding across them is limited. Only Adani Ports (MF holding 4.43%) and Adani Enterprises (MF holding 1.19%) have notable exposure. The remaining five companies have mutual fund exposure of less than 0.2 per cent.
Only for Subscribers |What is Hindenburg Research, the company that has accused Adani Group of stock manipulation, fraud?
"When floating stocks are low, bear operators short-sell the stocks, taking advantage of the negative news. In the case of Adani, the hard-hitting Hindenburg report was used to pull down the stocks through short-selling," said an analyst. Short-selling means selling a stock without actually holding it and squaring up the position at the end of the day by buying shares at a lower price, thus making a profit. Indian stock exchanges allow intra-day short-sales by investors.
Advertisement
Take the case of Adani Enterprises, which plunged 18.52 per cent Friday. While the promoter holding is 72.63 per cent (not free float), individual investors hold just 0.34 per cent stake (free float). Foreign portfolio investors (FPIs) and insurance companies hold 15.39 per cent and 4.25 per cent, respectively.
In the case of Adani Port, the promoter holds 65.13 per cent, FPIs 13.76 per cent and insurance companies 9.65 per cent. Individual investors hold just 1.36 per cent.
In Adani Total Gas, the promoter holds 74.80 per cent, FPIs 17.25 per cent and insurance companies 5.96 per cent. Individual investors hold 1.55 per cent stake and mutual funds have 0.13 per cent.
In Adani Power, the promoter's stake is 74.97 per cent, but individual investors hold 6.72 per cent. In the case of Adani Green Energy, the promoter's stake is 60.75 per cent and insurance companies hold 15.14 per cent. Individual investors hold just 1.44 per cent.https://www.youtube.com/embed/ZzYvJ48LIzY
Sebi rules mandate that public holding in listed companies should be a minimum 25 per cent. "By and large, the Hindenburg Research report and the accusations is the factor," said Ashutosh Datar, Founder India Data Hub. "Free float is just an enabling factor as when the free float is not there, the stock price falls more."
Advertisement
Read |Cong demands 'serious probe' by RBI, SEBI into charges against Adani Group
In contrast, consider RIL. Experts say heavy short-sale may not happen as it has 32.52 lakh retail shareholders — almost 50 per cent of RIL stock is widely held by mutual funds, retail investors, insurance companies and FPIs. Adani Enterprises, on the other hand, has only 2.43 lakh retail shareholders and the MF holding is just 1.19 per cent.
Some experts say the extremely high valuations of Adani Group stocks worked in favour of short-sellers. "The elevated valuations of Adani stocks are a serious concern," said V K Vijayakumar, chief investment strategist, Geojit Financial Services.